Administration
Michael Petuskey, Undersheriff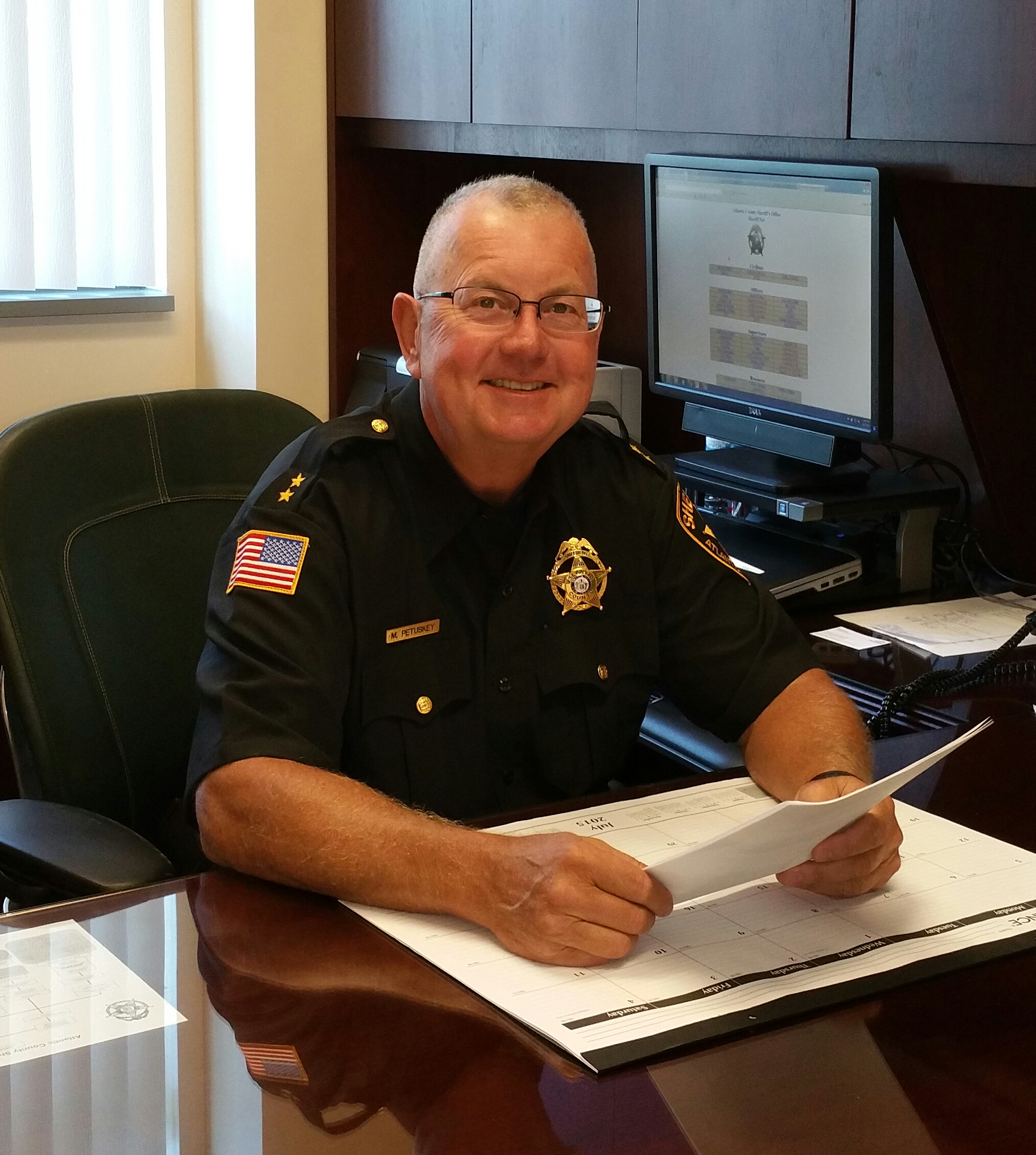 Michael Petuskey began his law enforcement career in 1989 when he was hired by the Township of Hamilton Police Department.  Throughout the years Mike served as a patrol officer, detective, sergeant, lieutenant and captain until he was promoted to Deputy Chief in May of 2014. During his tenure at Hamilton Township Mike commanded both the Operations and Administrative Divisions at various times.  While in Operations Mike was responsible for promulgating duty schedules and oversaw the day-to-day operations of the patrol and detective bureaus that included policy and procedure, personnel assignments, evaluations, traffic and Comp Stat.  He was astute at holding officers under his command responsible for their work and took pride in developing his subordinates into future leaders.  In Administration Mike supervised the Records, Dispatch and IT Bureaus and was responsible for preparing and submitting the Operating Expense and Capital Budgets to the governing body.  As a grant writer he was able to procure over 2.5 million dollars for the Township. 
Mike has been honored by the Mainland PBA with three Life Saving Awards, four Meritorious Service Awards and five Exceptional Service Awards. He was also honored by the Mays Landing Volunteer Rescue Squad as Officer of the Year on two occasions.  In addition to his police service Mike also served as an Officer Survival Instructor for the Atlantic County Police Academy. He was the Township of Hamilton Deputy Emergency Management Coordinator from 2006 to 2012. In 2012 he was appointed as the Emergency Management Coordinator for the Township where he was responsible for all mitigation planning to enhance the municipality's ability to prevent, protect against, respond to and recover from acts of terrorism, natural disasters and other catastrophic events and emergencies.  Mike retired from the Township of Hamilton Police Department on January 1, 2015.
Mike graduated from Rowan University with a degree in Criminal Justice in 1981 and received his Master's Degree in Administrative Science from Fairleigh Dickinson University in 2006. He is also a graduate of the Police Senior Leadership Program that was held in Bramshill, England, the West Point Command and Leadership Program, the School of Administrative Science for Global Leadership and Administration and is a Certified-Eligible Chief Law Enforcement Executive. He also completed the Principles of Public Purchasing and the Municipal Budget Process courses administered by Rutgers University, Edward J. Bloustein School of Planning and Public Safety.
As a life-long resident of Atlantic County Mike is involved with the St. Vincent de Paul Knights of Columbus Council 3451, Mays Landing Athletic Association and was a member of the Greater Egg Harbor Regional Board of Education from 2011 to 2015. As a volunteer he served as the Co-Chairperson for the Oakcrest Football Booster Golf Outing and served as the Chairperson of the St. Vincent de Paul Golf Outing for 10 years raising over $90,000 that went directly to the school.  He has also served as the president of the Oakcrest Football Booster Club, Chairperson of the Hamilton Township PAL Bowling League, Chairperson of the Knights of Columbus Free Throw Contest, Mays Landing Athletic Association Head Baseball Coach for 10 years, Mays Landing Athletic Association Major League Baseball Commissioner, Assistant PAL Basketball Coach, Head Coach of Girls/Boys CYO Basketball and Head MLAA All Star Coach.  In 2014 Mike was inducted in the Oakcrest High School Athletic Wall of Fame. He resides in the Mays Landing area with his wife Barbara.  Together they have two children, their daughter Megan and son Mike.
As an Undersheriff Mike oversees the Support Services Bureau, Police Records Bureau, Risk Management, Office of Professional Responsibility, Warrants Unit , Legal's Unit and Finance.