ADMINISTRATION
Stephen Caldwell, Undersheriff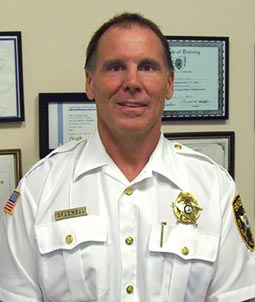 Stephen J. Caldwell has been a member of the Atlantic County Sheriff's Office for over 20 years. He has been an Officer for 9 years, Sergeant for 5 years, a Lieutenant for 6 years and now serves as Undersheriff. In his 20 years of service within the Atlantic County Sheriff's Office his assignments were diverse. He has worked in every unit of the Sheriff's Office and supervised the majority of them as well. They include: K-9, Patrol, Fugitive/Warrants, Legals, Courts, Community Affairs, Administration, and Training. In addition, he holds the position of President of the Sheriff's Office superior Officers Association.
Stephen was assigned to the Atlantic County Police Academy/Training Center for over 10 years, and in that time he trained and instructed, not only police recruits, but the majority of Atlantic County's Finest Law Enforcement Personnel as well. He has numerous law enforcement certifications, and has attended countless law enforcement training schools. His areas of expertise are Un-Armed Defense, Impact Weapons, Pressure Points, Use of Force, Officer Survival, Vehicle Operations, and Traffic Safety. In the area of Vehicle Training, he has trained not only law enforcement officers, but the general public as well. He received various awards for training and has been covered in National Law Enforcement Magazines for Driver Training. In 2001, Stephen was honored by the South Jersey Traffic Safety Alliance for Excellence in Training, Having given classes to over 25,000 people in Driver Training.
Stephen was instrumental in bringing the following Highway Safety Grants to the Sheriff's Office: Child Safety Seats, Fatal Vision, and OATS (Older Adults for Traffic Safety). He worked with the County and State Officers of Highway Safety to make this happen.
Stephen currently reside in Mays Landing with his wife and 4 children. He was active in the Hamilton Township P.A.L. and helped to bring in the Power lifting Program. He assisted in coaching there and has also helped in bringing many power lifting meets to the area, including the World Champions in 1999. He served as the State Chairman of the AAU (Amateur Athletics Union) for many years and has been an active member and rides in the Police Unity Tour, earnestly supporting its cause.