ADMINISTRATION
Biographies
Stephen Caldwell, Undersheriff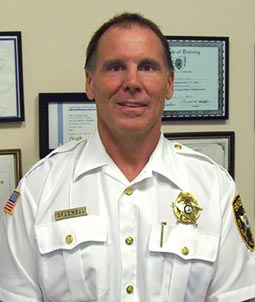 Stephen J. Caldwell has been a member of the Atlantic County Sheriff's Office for over 20 years. He has been an Officer for 9 years, Sergeant for 5 years, a Lieutenant for 6 years and now serves as Undersheriff. In his 20 years of service within the Atlantic County Sheriff's Office his assignments were diverse. He has worked in every unit of the Sheriff's Office and supervised the majority of them as well. They include: K-9, Patrol, Fugitive/Warrants, Legals, Courts, Community Affairs, Administration, and Training. In addition, he holds the position of President of the Sheriff's Office superior Officers Association.
Stephen was assigned to the Atlantic County Police Academy/Training Center for over 10 years, and in that time he trained and instructed, not only police recruits, but the majority of Atlantic County's Finest Law Enforcement Personnel as well. He has numerous law enforcement certifications, and has attended countless law enforcement training schools. His areas of expertise are Un-Armed Defense, Impact Weapons, Pressure Points, Use of Force, Officer Survival, Vehicle Operations, and Traffic Safety. In the area of Vehicle Training, he has trained not only law enforcement officers, but the general public as well. He received various awards for training and has been covered in National Law Enforcement Magazines for Driver Training. In 2001, Stephen was honored by the South Jersey Traffic Safety Alliance for Excellence in Training, Having given classes to over 25,000 people in Driver Training.
Stephen was instrumental in bringing the following Highway Safety Grants to the Sheriff's Office: Child Safety Seats, Fatal Vision, and OATS (Older Adults for Traffic Safety). He worked with the County and State Officers of Highway Safety to make this happen.
Stephen currently reside in Mays Landing with his wife and 4 children. He was active in the Hamilton Township P.A.L. and helped to bring in the Power lifting Program. He assisted in coaching there and has also helped in bringing many power lifting meets to the area, including the World Champions in 1999. He served as the State Chairman of the AAU (Amateur Athletics Union) for many years and has been an active member and rides in the Police Unity Tour, earnestly supporting its cause.
Michael Petuskey, Undersheriff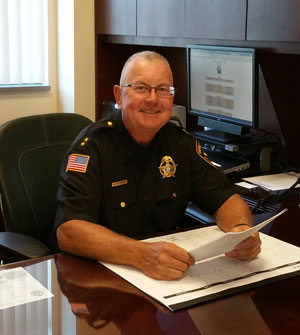 Michael Petuskey began his law enforcement career in 1989 when he was hired by the Township of Hamilton Police Department. Throughout the years Mike served as a patrol officer, detective, sergeant, lieutenant and captain until he was promoted to Deputy Chief in May of 2014. During his tenure at Hamilton Township Mike commanded both the Operations and Administrative Divisions at various times. While in Operations Mike was responsible for promulgating duty schedules and oversaw the day-to-day operations of the patrol and detective bureaus that included policy and procedure, personnel assignments, evaluations, traffic and Comp Stat. He was astute at holding officers under his command responsible for their work and took pride in developing his subordinates into future leaders. In Administration Mike supervised the Records, Dispatch and IT Bureaus and was responsible for preparing and submitting the Operating Expense and Capital Budgets to the governing body. As a grant writer he was able to procure over 2.5 million dollars for the Township.
Mike has been honored by the Mainland PBA with three Life Saving Awards, four Meritorious Service Awards and five Exceptional Service Awards. He was also honored by the Mays Landing Volunteer Rescue Squad as Officer of the Year on two occasions. In addition to his police service Mike also served as an Officer Survival Instructor for the Atlantic County Police Academy. He was the Township of Hamilton Deputy Emergency Management Coordinator from 2006 to 2012. In 2012 he was appointed as the Emergency Management Coordinator for the Township where he was responsible for all mitigation planning to enhance the municipality's ability to prevent, protect against, respond to and recover from acts of terrorism, natural disasters and other catastrophic events and emergencies. Mike retired from the Township of Hamilton Police Department on January 1, 2015.
Mike graduated from Rowan University with a degree in Criminal Justice in 1981 and received his Master's Degree in Administrative Science from Fairleigh Dickinson University in 2006. He is also a graduate of the Police Senior Leadership Program that was held in Bramshill, England, the West Point Command and Leadership Program, the School of Administrative Science for Global Leadership and Administration and is a Certified-Eligible Chief Law Enforcement Executive. He also completed the Principles of Public Purchasing and the Municipal Budget Process courses administered by Rutgers University, Edward J. Bloustein School of Planning and Public Safety.
As a life-long resident of Atlantic County Mike is involved with the St. Vincent de Paul Knights of Columbus Council 3451, Mays Landing Athletic Association, Mainland PBA Local #77 and was a member of the Greater Egg Harbor Regional Board of Education from 2011 to 2015. As a volunteer he serves as the Co-Chairperson for the Oakcrest Football Booster Golf Outing and served as the Chairperson of the St. Vincent de Paul Golf Outing for 10 years raising over $90,000 that went directly to the school. He has also served as the president of the Oakcrest Football Booster Club, Chairperson of the Hamilton Township PAL Bowling League, Chairperson of the Knights of Columbus Free Throw Contest, Mays Landing Athletic Association Head Baseball Coach for 10 years, Mays Landing Athletic Association Major League Baseball Commissioner, Assistant PAL Basketball Coach, Head Coach of Girls/Boys CYO Basketball and Head MLAA All Star Coach. In 2014 Mike was inducted in the Oakcrest High School Athletic Wall of Fame.
Mike resides in the Mays Landing area with his wife Barbara. Together they have two children, their daughter Megan is a senior at Stevens Institute of Technology in Hoboken and son Mike is a junior at Rutgers University in New Brunswick. In July of 2015 Sheriff Balles brought Mike Petuskey on as part of his management team.
Keith J. Fane, Chief Warrant Officer, B.A.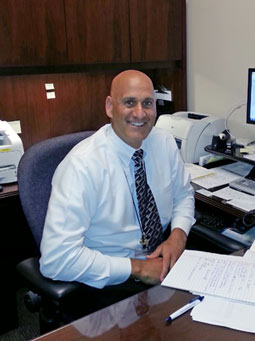 Keith J. Fane is a life-long resident of Atlantic County who started his law enforcement career more than 30 years ago with the Egg Harbor City Police Department in 1982. In addition to his Law Enforcement career, he served more than 30 years with the Egg harbor City Volunteer Ambulance Service. In 1995, he transferred to the Atlantic County Prosecutor's Office from which he retired in March 2012. During his career he has worked as a Patrol Officer, Bicycle Officer, Detective assigned to Grand Jury Unit, Trial Investigation Unit, and Financial Crimes Unit. He was also a member of the Atlantic County Emergency Response Team as well as a Firearms Instructor.
Over the years, Keith has worked in numerous undercover capacities throughout New Jersey in order to further investigations. He was an instrumental part of the Atlantic County Prosecutor's Office, Narcotics Strike Force Unit that was operating a very successful drug and gun interdiction unit, targeting buses and trains within Atlantic County. He has participated in multi-agency operations involving narcotics trafficking and surveillances. He was a cross-designated member of the United States Customs Service. He also worked in the Trial Unit and has been assigned to trials ranging from assaults to homicides.
In 2004, Keith was assigned to the Special Investigations Section/Fatal Collision Investigations Unit. During this assignment, he was promoted to Detective Sergeant and supervised that unit until 2010. He was responsible to assist and investigate serious injury and fatal collisions within Atlantic County that had the possibility of criminal charges. He developed a county-wide collision investigations task force which was comprised of multiple police agencies that was utilized for complex investigations.
Keith expanded a state funded program that was offered to County Prosecutor's Offices for the battle against drunk driving. Atlantic County became a leading county in New Jersey in the Enforcement and Education of drunk driving. Between the years of 2005 and 2010, Atlantic County's number of DWI checkpoints increased, DWI's arrested were increased and fatal collisions began to decline.
Keith is a graduate of the Command and Leadership Program sponsored by the N.J. State Association of Chiefs of Police. In April of 2013, Sheriff Balles brought Chief Warrant Officer Fane on as part of his Administrative team.